Being a Houston small local business owner like myself, you may or may not know that while the use of free or 'earned' media such as blog writing and social media is an important part of any online marketing strategy, paid online marketing remains the undisputed king of rapid and effective exposure.
Within this realm, Pay Per Click (PPC) advertising is arguably the best way to drive traffic to your website – and more importantly, result in real conversions. And much like 'Google' has become synonymous with 'web search' due to its superiority, Google AdWords is by far and away the method of PPC advertising that most marketers choose.
However, to truly harness the power of AdWords, it's important to understand exactly how they work and, as a result, how to get the best bang for your buck.
The basics of Google AdWords are simple. Like Search Engine Optimization (SEO), it's based on the usage of keywords. First, you'll create your ad and choose the keywords that, when searched, will cause your ad to be displayed above or alongside the organic search results. You'll bid on how much you're willing to spend per click and AdWords also allows you to set an overall daily budget. When your ad appears, potential customers can click to either visit your website or call you directly. You'll pay for each click – but only up to your daily budget.
WHAT MAKES GOOGLE ADWORDS SO GREAT?
AdWords' design gives it numerous advantages that can really turbocharge your online marketing campaign by maximizing the all-important Return On Investment (ROI). These are arguably the top three.
Cost Effective/Controlled Budget: Since you'll only pay when people click on your ad, you won't be paying a flat rate for an ad that may generate no traffic whatsoever. Additionally, since you set your daily budget, this is one of those rare times you'll receive a full-featured service yet pay exactly how much you decide to. As we'll see later, however, maximizing your ROI still requires a little research.
Ability to Target Customers: This feature is also a big part of maximizing ROI. The worst result of a PPC campaign is receiving a large number of clicks – but no conversions. This is a real possibility if you're not reaching the correct audience. AdWords' extensive targeting options allow you to decide on locations in which your ads will be shown, languages and the time of day it should be displayed. You can even target mobile device users – excellent for businesses that rely on walk-ins for a large chunk of their business, for example.
Powerful Analytics: This can never be said enough – the only way to design a successful online marketing campaign is to include a way to measure results. Google AdWords provides you with built in analytical tools that allow you to measure number of impressions (how many times your ad is displayed), number of clicks, click through rates, number of conversions and many more. Using these to fine tune your campaign will result in an improved ROI.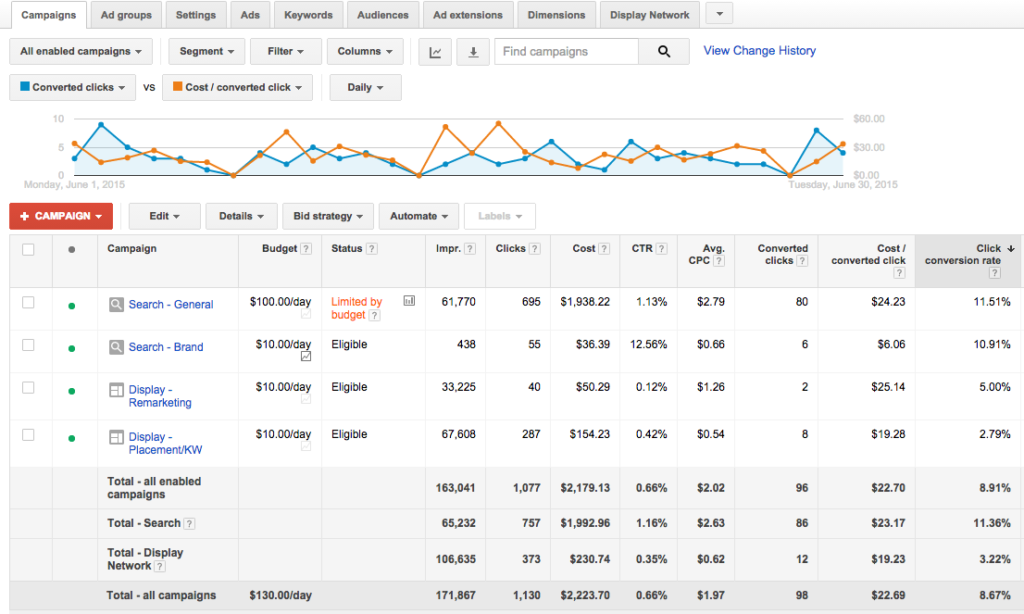 HOW CAN  GOOGLE ADS WORK FOR MY HOUSTON BUSINESS?
Now that we've taken a quick look under the hood, let's talk about the right way to use AdWords' helpful features.
Perfect the use of keywords: It's relatively easy to secure clicks with AdWords – far more difficult is attracting the right clicks that will result in conversions. One of the simplest and most effective ways to go about this is to focus on long tail keywords. These very specific search phrases (with 3 or more words) may result in less total clicks, but a larger portion of these clicks will be from truly interested parties likely to become customers.
Use modifiers to your advantage: With many Houston businesses and inexperienced marketers unaware of these, use them to get ahead of the competition. Match Types dictate how keywords are treated (e.g. 'broad match' will allow synonyms and similar phrases, while 'negative match' will exclude certain keywords and avoid false matches). Bidding adjustments allow you to bid more or less per click under certain circumstances (e.g. searcher location or the use of a mobile device).
Use automation to increase conversions: AdWords' handy automation tools provide additional options that can increase your ROI. Remarketing can net you return customers, while a countdown feature can drive traffic and conversions by highlighting days remaining on a sale or dwindling stock.
When used to its full potential, Google AdWords can dramatically increase the traffic coming to your website and social media profiles as well as net you more conversions than you would have dreamed previously. An understanding of the points raised here will get you on your way, but to get the most out of this PPC method, hiring professionals will without a doubt make life easier and your ventures more profitable.